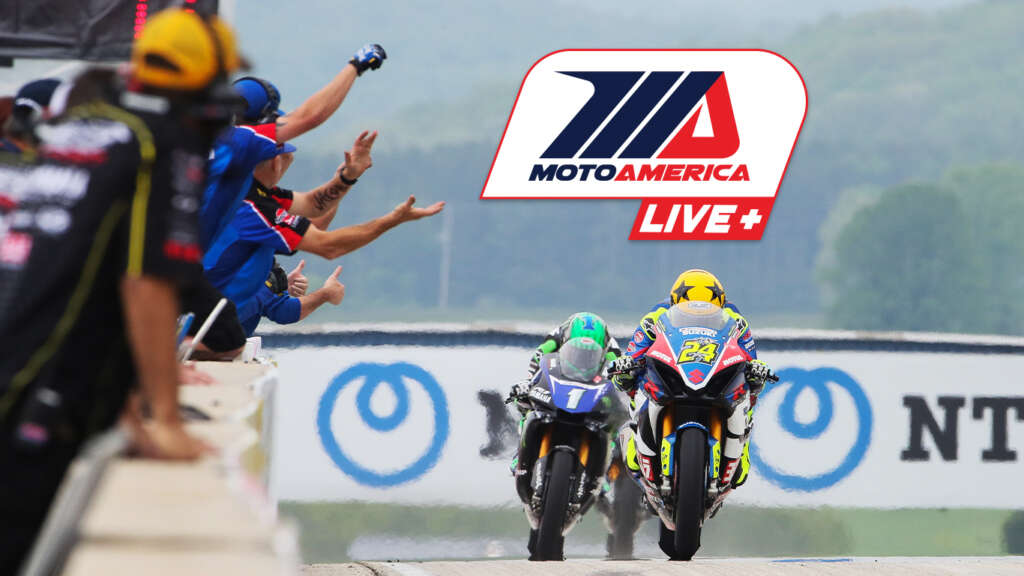 With difficult times forcing racing seasons worldwide to start late, MotoAmerica has announced that it will help feed the hunger of its fans for on-track action by offering a free trial to its live streaming and on-demand service, MotoAmerica Live+ until May 22.
The trial will give MotoAmerica fans access to over 160 races across its five classes, including the premier MotoAmerica Superbike class, through May 22. Those wishing to cancel at that point can do so and those fans who are ready for more can continue with the full-season of 2020 racing for just $74.99, beginning on May 23. The 2020 MotoAmerica Series is set to kick-off the following weekend with the series opener slated for Road America in Elkhart Lake, Wisconsin, May 29-31.
"Things aren't easy right now for anybody and with the majority of our fans sheltering in place at their homes, we thought we'd give them some free entertainment," said MotoAmerica President Wayne Rainey. "Our 2019 season was action-packed so there's definitely a lot of good racing ready to be viewed on-demand on MotoAmerica Live+. We hope our fans take advantage of the free access to keep them entertained while they are in their homes."
To access MotoAmerica Live+ for the free trial, go to https://www.motoamericaliveplus.com/viewplans, click on REDEEM in the menu bar and then enter the code MAFREE.
For the full 2020 MotoAmerica Series schedule, click HERE
To purchase tickets to any of the 2020 series rounds, click HERE
For information on how to watch the 2020 MotoAmerica Series, click HERE